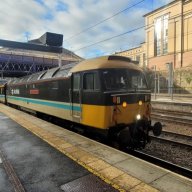 Joined:

2 Sep 2016
Messages:

5,390
Likes Received:

0
Gender:

Male

Birthday:

1 Nov 1997

(Age: 21)

Location:
hexagon789
Established Member, Male, 21, from Glasgow
And so...the beginning of the end has begun. 22 Jul 2019 at 07:10
Loading...

About

Gender:

Male

Birthday:

1 Nov 1997 (Age: 21)

Location:

Local Line:

Nith Valley Line

2014 Mileage competiton entry:

0

2015 Mileage Competiton entry:

0

2016 Mileage competition entry:

0

2018 Mileage competition entry:

1887.2

2019 Mileage competition entry:

167.4

Hi, I'm Hexagon789 and welcome to my profile page. The following is a compilation of some of my favourite types of train, other interests and some stuff about me:

Favourite British trains...

The InterCity 125 AND the InterCity 225

Looking forward to the...

Class 397 - quite a looker!

I also rather like...

Class 47s

Class 55s

Class 37s

Class 50s

Class 68s

My favourite electric loco class is the...

Class 91

Followed by the...

Class 87

As well as the...

Class 90

My favourite British DMU class is..

The Class 158 (excluding refurbished Haymarket units which are just awful

).

I do like an un-refurbed 156 now you mention it, something about that rev-up

And I like Meridians in original MM colours

I've rather gone off...

Rattly 170s

My favourite EMU class has to be...

Class 314s (why not?

, especially as those veritable, veterans of Weegieland enter into their twilight months. May you rest in peace dear, old friends

)

I love...

e300 Class 373 TMST Eurostars, best TGV-type high-speed train ever, smooth as silk. LNER should get some back!

I also love...

Class 390 Pendolinos (the accceleration and tilt are impressive, it must be said

)

I particulary dislike...

FGW Class 166s, probably 165s too at that - they are practically the same

I also like...

Belgian SNCB/NMBS AM96s, quite decent medium-distance InterCity EMUs really

I'm not so keen on...

XC 220s, not a bad train as such but they could've made the interior so much better.

My favourite TOC is...

Probably Virgin Trains, though I'm getting progressively keener on LNER. Historically - definitely GNER.

My all-time favourite livery is...

InterCity Swallow, but I also like Virgin's older Red/Black livery.

For modern liveries...

Current NIR one is nice, a stylish blend of Blue and Silver

Newer TPEx is pretty stylish too

ScotRail 7 Cities, suits the HSTs pretty well

Actually, the new Virgin Voyager and LNER's Azuma liveries are growing on me.

My favourite foreign train is...

The Italian FS ETR 500

My favourite foreign countries are...

Switzerland

France

Belgium

Italy

Spain

My favourite European cities are...

Paris

Barcelona

Brussels

Venice

Florence

Rome

Geneva

My favourite colours are...

Yellow, Blue and Gold

I particularly dislike...

Mushrooms

Beetroot

Weak or just generally rubbish coffee

Earl Grey tea

Smoking/e-Cig fumes

The smell of bleach/chlorine

I especially like...

Chocolate

Coffee

Smoked Salmon

Sticky Toffee Pudding (who doesn't, eh?

)

Pears (probably my favourite fruit)

Peach juice (I don't know why but it's so good

)

Moules marinière

Hot chocolate

Spaghetti àlla Carbonara

Sourdough bread

My personal areas of interest in railways include...

History

Technology

Current events (basically just what's going on)

Modus operandi

Rolling stock

Signalling

Timetables (present and historic)

Speeds (bit of speed freak

)


Other hobbies and interests...

History

Politics (getting right heavy at the minute though, too heavy

)

Travel

Art

Drawing

Literature

Film

Languages

Architecture

Coffee

Deep discussions

Cars

Aviation

Rangers FC (when they win

)

Thank you for stopping by

Interact

Loading...