Joined

23 Jul 2016
Messages

3,698
Location
Over the last few days, my phone (Motorola Moto G7) has decided to significantly increase its battery usage, to the extent that full charge to 20% takes around ten hours; previously, this would last at least two days. Does anyone know what the cause might be?
Here's a screenshot of the battery usage graph for today; the percentages add up to less than 20%, yet the battery level is only at 49%. Surely something is amiss here?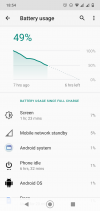 Thanks for any help.