Joined

19 Mar 2007
Messages

605
Location
Hi,
To the previous part of the series:
Cornfield Express 34: Belgrade (50 p.)
Hi, To the previous part of the series: Regional Rail (Narrow Gauge) Express Steamer - 33 (50 p.) https://railroadforums.com/forum/index.php?threads/regional-rail-narrow-gauge-express-steamer-33-50-p.16004 July 7 2009 We had returned from Sutomore to Belgrade by B 434 "Lovćen". It was...
railroadforums.com
August 14 2015
We return to the penultimate morning of the Balkans Tour 2015 at Belgrade main station.
One of the new CAF trams.
The immeasurable suffering of refugees that year.
July 7 2009
Railroad operations at the terminal six years earlier...
August 29 2005
... and ten more years prior.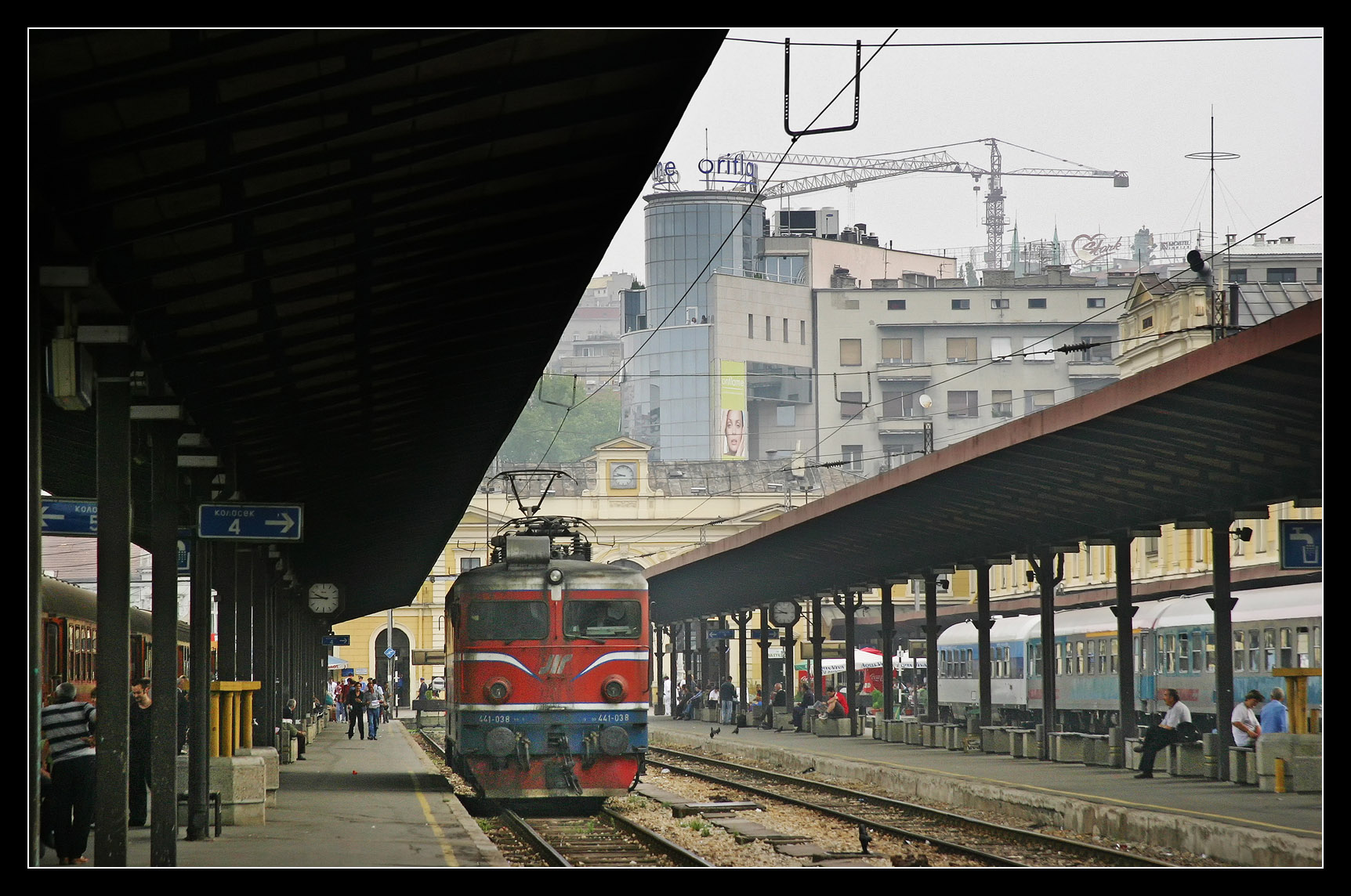 Original 441-038 (SGP #67839 / built in 1969) remained in service for only two years.
July 4 2009
Local train departure in front of Belgrade old city backdrop.
Different pantograph directions: 441-604 (Rade Končar / built in 1976) and 441-710 (built as 441-614 in 1981, later renumbered by JŽ).
Romantika historic train buffet car.
461-152, one of the last 461s, delivered in 1980.
641-305 switching a car transporter.
"Blue loco" 11-022 (like MÁV 424, MÁVAG #5581 / built in 1947) had pulled Tito's "blue train" 1947-57 together with others of its class.
Our express for this report part: Back then InterCity 344 "Avala" Belgrade - Prague with through cars to Moscow and Kiev.
August 14 2015
We prepared to board IC 344 "Avala" Belgrade main station - Vienna Western station as two-hours-delayed B 292 "Nušić" arrived from Sofia.
July 7 2009
The same scene six years earlier with 461-022 (Craiova/ASEA #144 / built in 1972).
August 14 2015
I chose a car with windows to open for the departure of our "Avala". One of the first Stadler Flirt 3 EMUs - class 413 - for Serbia.
View towards the enginehouse and railroad crane.
33-087 still in museum services in 2015.
Across the old Sava bridge.
July 7 2009
In 2009, we continued to Zagreb by B 414 towards Schwarzach-St. Veit. We were lucky to encounter a Beovoz EMU on the new Sava river bridge.
August 14 2015
First class is rare in Serbia, we could use it traveling by "Avala".
Past class 412 EMUs ready for scrapping, a Stadler EMU already in the background.
July 4 2009
Morning impressions when arriving from Vienna.
A Basel tram at the depot.
August 14 2015
The ride through the cornfields is quite slow, after almost four hours we reached our destination Subotica only ten minutes delayed.
August 15 2015
Arrival of "Avala" at border station Subotica the next day.
August 14 2015
IC 345 Vienna - Belgrade into the opposite direction that afternoon.
A chivalrous station master.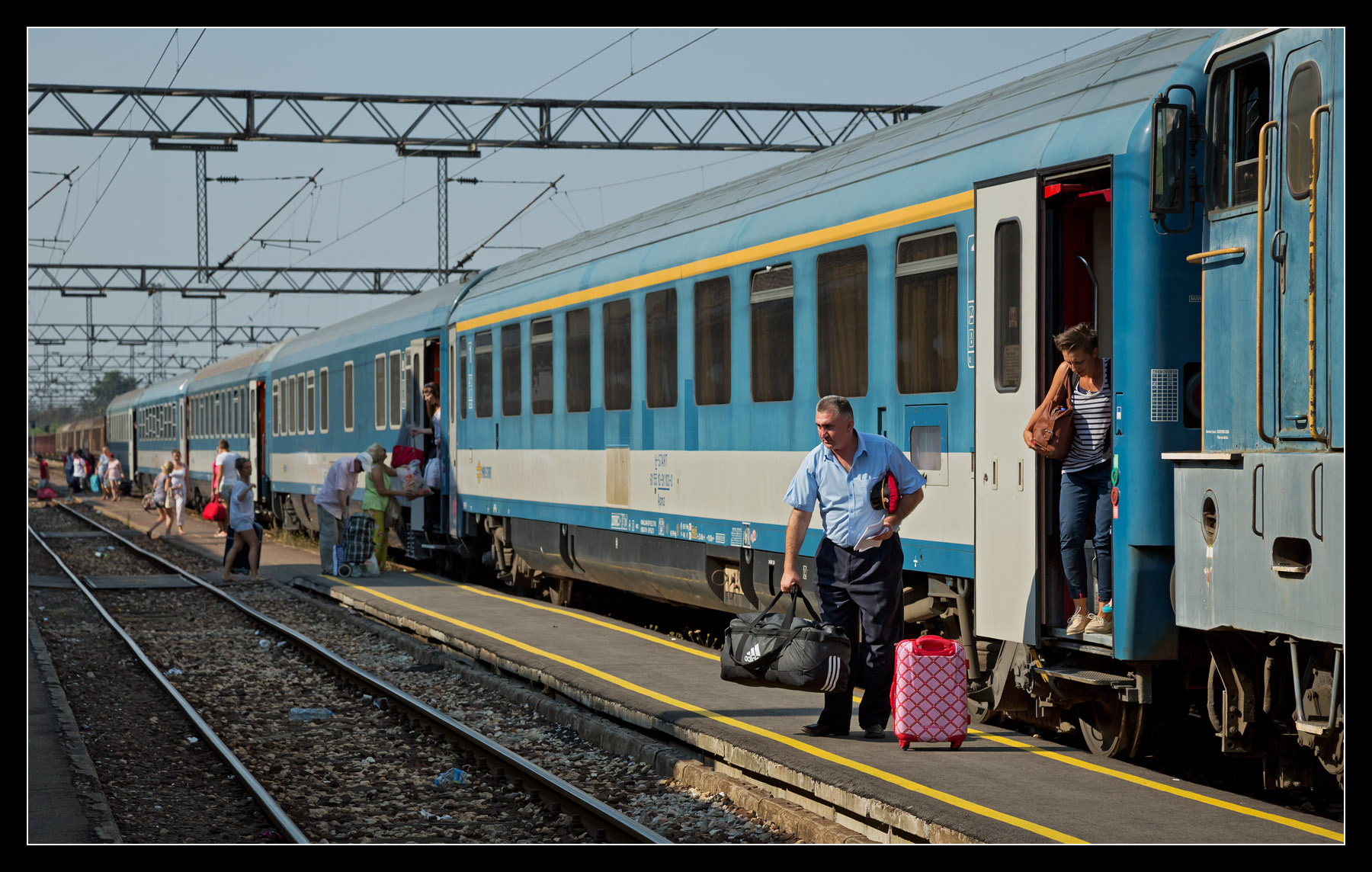 A single couchette car stood on track 1.
A "yellow chicklet" switching freight cars.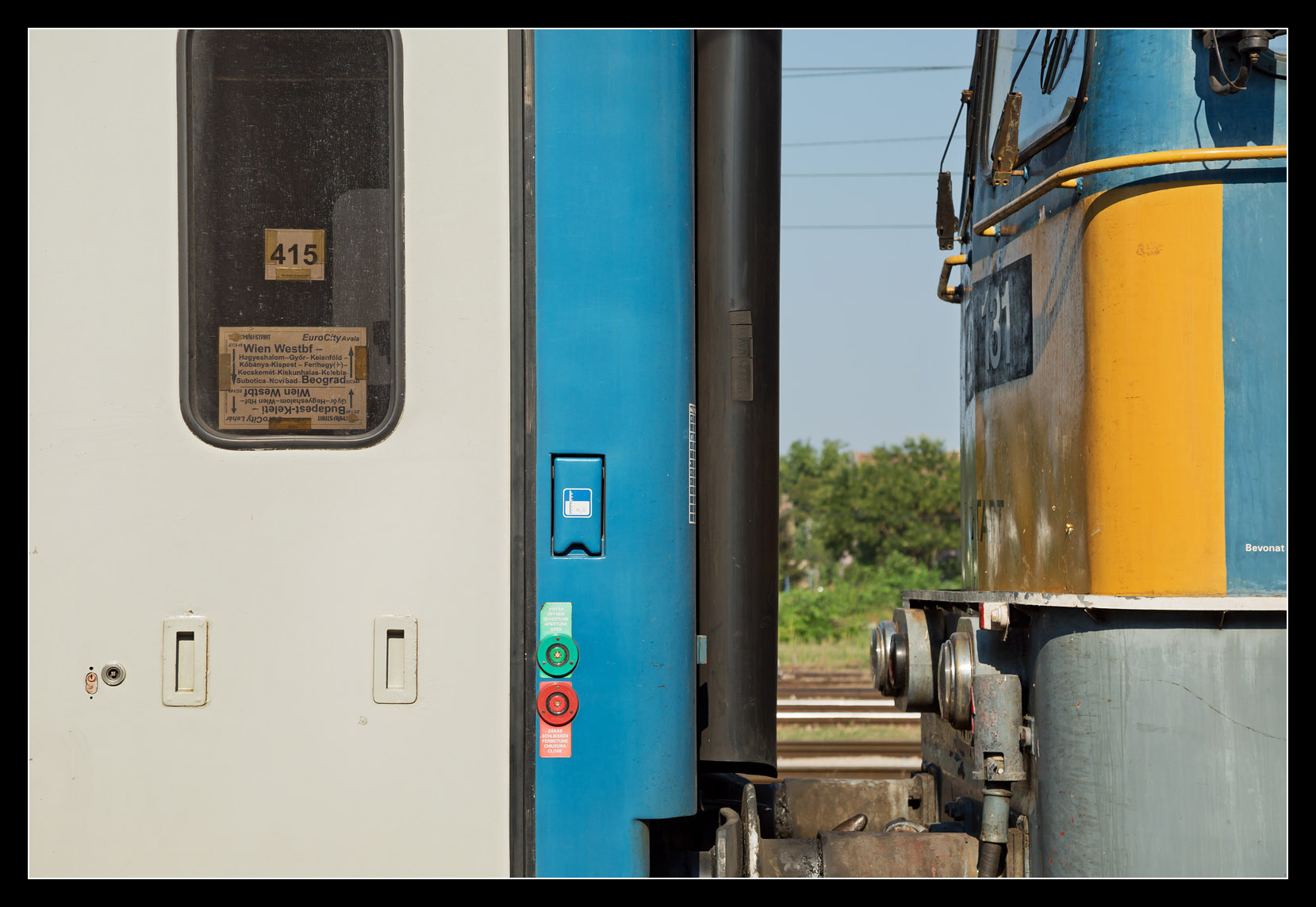 Current notices at the station door, the branch line to Röszke and Szeged in Hungary was closed. Soon afterwards horrible, inhumane scenes happened there, only thanks to volunteers from all over Europe a major humanitarian catastrophe with many dead could be averted.
After checking into the hotel we explored the city center in 95 degrees heat:
The national theater from 1854 had been controversially pulled down in 2007 and rebuilt since.
The city is definitely worth a visit and a great place to break a journey through the cornfields. The region also including Szeged is home to a special style of Hungarian Art Nouveau, here the giant city hall from 1908-1910 with blue fountain in front.
August 15 2015
Back at the station the following day.
A V43 took over for the journey through Hungary. Some optimistic Bulgarian tourists tried to get to Lake Constance with their bikes - as a result the Hungarian conductor threw their giant luggage out at the border station. I don't want to know how much money they would have saved if they had just rented bikes at their destination...
We will not continue yet as there is more to see at Subotica for the next two parts.