Joined

5 Apr 2018
Messages

382
Location
So I've found a piece of interesting history. There seemed to once be an experimental service called "London Crosslink" (NOT Crossrail!) ran by Anglia Railways which lasted from 2000 to 2002. It was intended to get people past London from north to south without changing trains. It ended due to low ridership. It is a sort of Trans-London Intercity express service running from Norwich/Ipswich to Basingstoke. It was also intended to run on the WCML at some time, but I don't think it ever did.
For inspirational reasons, I will show the (intended) map here: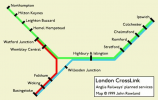 So, what would happen if more TOC's did this?
I have to admit I'm not the first person to open suggestions for Trans-London Intercity express service. This thread is one:
https://www.railforums.co.uk/threads/would-you-use-a-trans-london-service.157565/
It's a topic worth reviving, plus, more people need to be aware of this, seeing how the ridership made a dramatic rise since the early 2000s.
So, what services would you want to see?
Note that this thread is Fantasy, so Speculation doesn't have to apply.