Hello

I've been trying to work out what I want to do with some coaches I've been given and during my research (alright - that's a bit steep; it was me reading a magazine last night), I came across Iris 1 & 2, and other associated units. For those who hadn't heard of them before, there's a really good page about them here:
http://www.traintesting.com/iris1&2.htm
My main interest here is the Iris 2 unit (number 901002). It's based off of a Class 101 (2-car) unit, and is currently in service on the Barry Tourist Railway (in normal times, of course). It looks to be in fairly standard Class 101 condition as far as the exterior goes (apart from the vents near the inner ends of each coach), which seems to make it a good candidate for being modelled in some form.
Here's a photo of Iris 2, at Dunster on the WSR, 2008: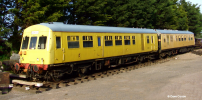 (c) Dave Coxon, found on
http://www.traintesting.com/iris1&2.htm
As you can see, it's a fairly simple affair, and that's kind of what interests me the most as it means making a model of it would be easier than, say, Iris 1. Has anyone already made a model of Iris 2 (or any other test unit/train)? I expect people will have done at some point. I'd like to make a model of Iris 2 at some point and it would be interesting to see how others have done it. I've done a bit of looking on the interwebs, but couldn't find anything.
Thanks,
-Peter