Hello all.
Here's my list in no particular order:
1) A closed station a la Seaton Junction in Devon.
We actually made a couple of field visits to the place to have a look around and it's an interesting old place, originally there were two loop lines for the platform and a couple of concrete footbridges (which are still there) over all four tracks.
In 1988 there was still a yard (although disused) and in my modelling fantasy that yard would still be being used for permanent way trains that were needed on the West of England route around Devon.
Lots of SR concrete stuff everywhere, all overgrown crumbling platforms and buildings with peeling paint and trains rushing through non stop...
Here's a few photos that I've gathered including a couple from our very own
@John Luxton
showing the site when they still used one of the platform roads as a headshunt.
I wouldn't slavishly follow it to the millimetre, but it would definitely try and capture the essence of the place: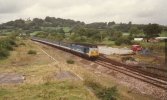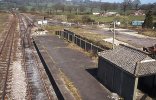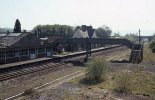 2) The Scottish highlands, again in N gauge.
I'd have to sell nearly all my stock and start again, but I'd love to capture some of the mountains, bridges and wayside stations and have 37 hauled 1980s services with the odd 20, 26 and 27 on mixed freight and passenger services.
3) This is a bit off the wall but my dad said he'd pass on a load of G gauge LGB stuff to me one day and I have in my mind an idea of turning a corner of the garden into a slate mine (don't know what Mrs C will make of it yet but she's pretty game for that kind of thing thankfully).
It's large garden railway stuff anyway but I'd like to weather it up and have it looking work stained and rusty with all the track disappearing into the weeds.
I think a pond might have to be involved too...
So those are my three. Do any of you have ideas like these that you occasionally go back to and start imagining what you could create one day?