Joined

16 Apr 2010
Messages

4,123
Location
This web page
appears to suggest that the LNER website and app will automatically offer split ticketing options on their services:
Why choose Smart Save?​

Same great savings as a split-ticket but we do all the hard work, meaning you can sit back and enjoy a great saving without any of the hassle
Relax knowing you've got the same seat for your entire journey (you might not always get that if you buy somewhere else, crazy we know)
One simple ticket, so you're not juggling a handful of tickets (and trying to figure out which to show the train manager -which can happen, if you buy from other websites).

What you need to know ​

LNER Smart Save is eligible on;

Fares for LNER journeys purchased on the LNER website or mobile app
Advance and flexible tickets (off-peak, peak and open singles and returns)
eTicket only. Simply print it at home, or show onscreen on your mobile.

So what are you waiting for, get smart saving today.

How do you use an LNER Smart Save ticket?​

The only difference between an LNER Smart Save ticket and other tickets is that this is

exclusive

to LNER and can only be delivered to you as an eTicket (you can print this at home or simply show on your mobile device)

How it works:

The LNER website will do all the work for you. We will search for the cheapest way to get you to your destination with one ticket and one seat reservation
This has to be delivered as an eTicket. You can print the pdf at home, or show this onscreen on your mobile
If you can't see a Smart Save ticket then there is not one available for the journey you searched for.
My reading of the above is that the split ticketing price should show up automatically when you search for an LNER journey on the LNER website or app. Has anybody had any success with this? It doesn't seem to work, as far as I can see. I searched for a single journey from King's Cross to Inverness departing on Wednesday 3 February at 12:00. LNER shows a price of £61.50: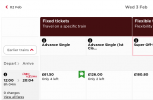 But TrainSplit offers a split at Perth for £56.70, plus 15% of the saving giving £57.42, or a saving of £4.08 over the LNER price, despite LNER promising the "Same great savings as a split ticket".
Maybe it's just not been switched on yet?