I can't help but think that there is very little variety in the UK bus market these days in terms of what is available. Bored of seeing endless Enviro MMCs and Streetlites. Got me wondering what buses currently not available in the UK people would like to see over here?
I'd love to see a right hand drive version of the Solaris Urbino. The Mk4 version looks really cool I think.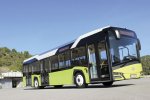 Quite like the VDL Citea as well.

Any others?