Joined

23 Sep 2015
Messages

741
Throughout the pandemic, opinion polls in the UK have consistently indicated that a large majority of the public support lockdowns to bring the Covid-19 pandemic under control, with support typically being greater than 70%. For example this poll from YouGov on Thursday suggests that 71% of the public think the lockdown should continue even once the risk of the NHS being overwhelmed has ended: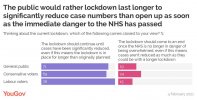 One thing I have noticed is that almost all of the opinion polls on Covid-19 restrictions are from YouGov. I have seen very few opinion polls on the topic from other polling companies such as Ipsos Mori and Opinium.
From what I read on this forum and others, there is some skepticism that support for lockdowns is as high as these polls claim. So the question is do you think these opinion polls are accurate? Do the views expressed in these opinion polls reflect the views of your friends, family and co-workers? If these opinion polls are overstating (or perhaps understating) support for lockdowns, why do you think that is the case?