Dear all,
anybody an idea, what locomotive this could be?
The number is somehow not visible, the diameter of the driver is estimated to be 6 ft 7 in. Most probably, it's en engine of the Northern Railway and the pic is taken between 1880 and 1890.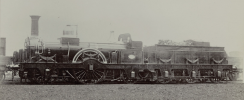 Original picture is in the ETH Collection in Zurich. See
here
.
Thanks in advance
Peter