Joined

26 Nov 2005
Messages

3,389
Location
Introduction
Welcome to the consolidated First Class Lounge Guide for rail travel across the United Kingdom. With the growing amount of questions regarding First Class lounges this thread has been created with information of all the lounges across the network showing information for both the commuter and the leisure traveller. All information and reviews are provided by forum members who can offer you first hand experience so feel free to ask questions. I do not claim to be an artist but I will eventually get round to adding key symbols and a more artistic design once things are settled.
Special Thanks to Mojo and the team for permission to host this.
How I can help?
We are always looking for more information and to keep up to date with changes. Being a community guide means forum members are encouraged to post reviews, tips and changes. Photographs are greatly encouraged to build on the guide so please send me a PM or email and I will update the guides. Please respect your fellow travellers views and opinions to help them just as we would help you.
Basic Rules
1.
All First Class lounges are maintained by the respective Train Company and so access is restricted to their own passengers, naturally. Read carefully the access restrictions before you try to enter with your ticket.
2.
Most rail lounges are not to be compared to our air counterparts so do not expect alcohol or canapés in the evening. Instead treat the lounges as a greatly enhanced waiting room with most offering basic business facilities such as Wi-Fi for free. Snacks you should expect a tea/coffee machine of sorts, water and some sort of soft drink, shortbread or biscuits. Do check as lounges greatly differ across the network. Most also offer the "on-board" magazine as well as a selection of local/national newspapers.
3.
Where many are classed as "unmanned" don't imagine no cleaning as lounges are generally cleaned after each wave. Unmanned generally means you don't have a host or "dragon" guarding the lounge and entrance is by means of a mini CCTV camera.
Buy-Ins
You will see the term "buy-in" used on here and this is nothing to be alarmed about. This is generally used in the airline industry where their lounges are normally reserved for loyal customers but may accept passengers who buy their way in. Most stations allow you to enter with a first class ticket to the next valid stop which, if you find yourself travelling regional, can be handy to shell out a few £. As a rule anything over £10 is considered too much for what the lounges can offer but of course this depends on your needs and style. The only exception we have found where this is not practical is most London stations where the next stop is a great distance. An example of this usage is a business traveller between Birmingham and Liverpool on London Midland would purchase tickets for Liverpool and Birmingham stations.
Alternatives
Don't worry if you cannot get into a lounge for whatever reason as there are plenty of alternatives our members have found to be "nice spots". Find a quiet platform bench to watch the world go by or head off to the nearest Regus lounge if you need WiFi.
FAQs
1.
Are child alternatives valid into the lounges?
Yes permitting you are under 16. Note that some lounges do not permit under aged to enter while travelling alone.
2.
I am travelling from Newcastle to Edinburgh with an "ANY PERMITTED" open ticket. Can I use the East Coast lounge even though I plan to get the Cross Country service?
Yes, as long as your ticket is valid on the lounge operators service from that station.
3.
I have a fully flexible through ticket between Liverpool and London and wish to break my journey at Crewe, can I use the Virgin lounge at Crewe?
Yes but be mindful when trying to enter with uncommon stations as some lounge hosts may not be aware that your ticket is valid though their station.
4.
Can I gain access using my credit card or other arrangement like PriorityPass?
No, currently no TOC permits access into their lounges with credit card offers like airlines. The only exception is the holder of an UK AMEX Plat can enter the Eurostar lounges with no guests. This might change in the future so check back.
5.
I am travelling 1ST and my partner is travelling STD, can I guest them in?
No, currently no TOC allows passengers to "guest" other passengers in. The only exception are Carte Blanche holders entering Eurostar lounges. This may change in the future so check back.
6.
I am planning an "All Line Rover" trip in 1ST or travelling on holiday with a 1ST "BritRail" pass, can I use the lounges?
Yes, as long as the "All Line Rover"/"BritRail" is 1ST.
7.
Can I access using an advance purchase ticket?
This varies between company and so you should read below specific to your station/company.
8.
Can I use the lounge on my arrival?
Yes. As long as the ticket you are entering is valid for A. that company and B. that station.
9.
Why don't you include prices?
Prices change multiple times a year and with many types of railcards and discounts it would mean a complete fares guide to be created. With this in mind I do not wish to publish information for it to keep changing. Many now introduce minimum fare rules and therefore the lounge guide has been edited to show these restrictions. Buy-ins can be discussed on the forum below.
The Guide
Key to symbols + Glossary
I am currently in the process of updating the guide with key symbols which will create more room for notes. Below is a list of terms frequently used in the guide.
1ST - First Class Ticket
ALR -
A
ll
L
ine
R
over
APEX -
A
dvance
P
urchase
EX
cursion
FDR -
F
irst
D
ay
R
eturn
FDS -
F
irst
D
ay
S
ingle
FOR -
F
irst
O
pen
R
eturn
FOS-
F
irst
O
pen
S
ingle
STD - Standard Class Ticket
TOC -
T
rain
O
perating
C
ompany



East Coast (GR)
Last Revised 02MAR15
Virgin have recently took over the East Coast franchise and a number of changes are appearing. The lounges are slowly getting a red paint job and the access policies are changing. With the disbandment of their frequent traveller scheme, EC passengers will soon no longer be able to redeem points for lounge access.
East Coast previously had an "entry-by-supplement" policy which charged APEX tickets as well as a few others with an entry fee. This has now reduced to Kings Cross but a minimum fare rule has been imposed. Virgin Trains may change these former East Coast policies but for now, it's a different paint job.





Scroll down for ScotRail passengers.





East Midlands (EM)
Last Revised 27FEB15
East Midlands have lounges at most large stations across the Midland Mainline. East Midlands have a unique policy where standard class passengers can buy lounge passes with day, weekly, monthly and yearly options. Season ticket passes can only bought at the lounges but can change at any point. 1ST Advance ticket holders may enter for free.





Not available to Eurostar or SouthEastern.



Eurostar (ES)
Last Revised 27FEB15
Eurostar is generally configured up as an airline operation and so their lounges are of a higher standard on par with most airline lounges. Most of the time is a change of canapés depending on the time of day with a more substantial range of drinks including Champagne (for the BA flyers). Holders must be in possession of a Business Premier ticket, a Eurostar "Carte Blanche" frequent traveller card, an UK issued AMEX Plat card, a valid Railteam frequent traveller partner card (DB, SNCF etc...) or a BNP Infinite card.


This is not available to domestic services from Ashford International (AFK).



This is not available to domestic services from Ebbsfleet Domestic (EBD).




This is not available to domestic services from St Pancras (STP).
Eurotunnel (ET)
Last Revised 27FEB15
While not strictly a National Rail service, Eurotunnel have provided a business lounge for it's premium customers. Passengers have a dedicated lane for boarding the shuttle & are invited to sit in the lounge before boarding.



First Great Western (GW)
Last Revised 26FEB15
First Great Western have 2 lounges available and have been confirmed to be available to all 1ST FGW passengers as opposed to just Intercity routes. Note: There is a dormant lounge at Bristol Temple Meads between 11 and 9 but this has been mothballed for now. 1ST Advance ticket holders may enter without additional charge.


Greater Anglia (LE)
Last Revised 26FEB15
Greater Anglia have a lounge at London Liverpool St and is open to all 1ST class passengers departing that day with LE and also Stansted Express 1ST passengers (operated by LE). There is also a confirmed lounge at Ipswich open during "station hours". 1ST Advance ticket holders may enter without further charge.



ScotRail (SR) & Caledonian Sleeper (CS)
Last Revised 18SEP15
In addition to the 2 main lounges ScotRail have a contract agreement at Glasgow, Carlisle and Inverness for customers. Customers travelling on the sleeper are advised to read the Virgin Trains section below. ScotRail currently do not offer First Class Advance Tickets.




Scroll up for East Coast passengers.

Currently Inverness is offering a day room "wash and change" service which is valid for 4 hours. £25 per person or £35 for 2 sharing.

See the Virgin Trains section below for details on the London Euston lounge
Virgin Trains (VT)
Last Revised 26FEB15
Virgin Trains offer First Class Lounges across the southern part of the network. With access open to any 1ST class ticket holder valid on Virgin services including advance tickets. You should expect tea and coffee out of crockery, nibbles in the shape of crisps, cakes and biscuits, bottles of water and cartons of orange juice which can be glassed. Those manned are very handy during disruptions as you always have someone to get information from who usually has a phone available (compared to those on the platform who usually have more passengers to deal with).
Many of the lounges do not have a dedicated host and are listed as "unmanned". Entrance is usually by pressing a buzzer and displaying your ticket to a CCTV camera mounted to the buzzer.


See
here
regarding the New Street redevelopment project.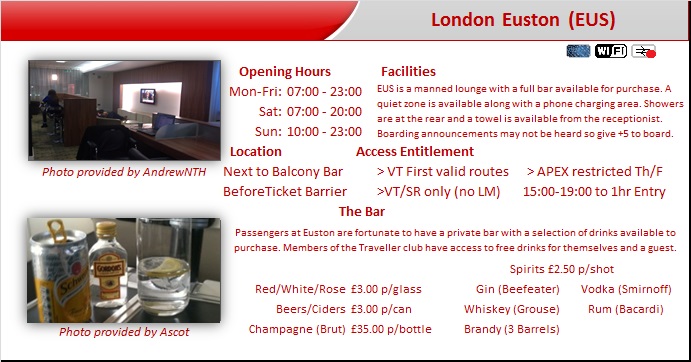 Passengers on the Caledonian Sleeper may use the Euston lounge. View access entitlements in the ScotRail section above. For shower usage ask the dragon on the front desk for a towel then help yourself to a cubicle.
Fill in the gaps for the bar here!


Stoke is reported to be offering all passengers access regardless of class for a £5 entry fee. Note this offer can be withdrawn at any time.


Other Train Companies
Those not listed above, including Cross Country, do not have any lounge access agreement. Any passengers, including 1ST, should consider the appropriate "buy-in". Any reciprocal/contract agreements we find will be listed in this section for passengers of TOCs not listed above.
Last edited by a moderator: