Joined

5 Apr 2010
Messages

332
Location
An enjoyable visit to the Stockport-Stalybridge line today.
Got up at 05:15, and out of the house by 05:40. Not bad going for me!
Walked down to Birkenhead Central where I got the 05:59 to Liverpool Lime Street. Was great to get a pristine Metro newspaper from pretty much the top of the pile at BKC.
Arrived at Lime Street main concourse at 06:11, around a good half an hour earlier than needed, but intending ultimately to catch the Reddish South service, I thought it better to be safe than sorry.
Having read the Metro at Lime Street concourse, taking me nicely up to 06:30 or so, I then strolled on over to platform 5 for the 06:47 EMT service to Norwich. My destination, Stockport, and it was my choice to board this particular train, avoiding the need for a change at Manchester Piccadilly.
Arrived bang on time at 07:53 at Stockport and after a toilet break, managed to leave the station at 08:00. My mission now, with just a Manchester A-Z street atlas in hand was to walk the two-and-a-bit miles to Reddish South, whilst grabbing as many photos as possible of Stockport etc.. for potential Wikipedia uploads.
Finally arrived on foot at Reddish South, sometime around 08:45, which was ideal as the sun was still out and it gave me a good 40 minutes or so to soak up the atmosphere of the station and also to eat some of my "packed breakfast" at Reddish South. Fortunately, I could sit on the grassy bank for a while.
I arrived, perhaps not unsurprisingly to a completely deserted station:-
Was nice to see a timetable here too (complete with reflection of me holding the camera!):-
Then around 9:00am or so, something unexpected happened, another passenger arrived at the station! After noticing the gentleman take a few photos of the station, it was apparent to me that he was another enthusiast.
So, I got talking to him and it turns out he was a retired railwayman in the area, mainly to visit the Metrolink tram system and new route extensions, but thought he'd do this line too whilst here.
On top of that there was another guy standing on the Reddish Road bridge with camera in hand, awaiting no doubt what was an excellent shot of the pacer arriving. Sure enough, once he'd got his shot, he was rapidly down onto the platform to catch the train. So, there were three of us boarding today at Reddish South.
Something else unexpected occured (well to me anyway) - around 09:07 a pacer on an apparent ECS move travelled through the station, alas I did not have my camera in hand at that exact moment - it caught me on the hop. Would've been nice to get a shot of that though!
Anyway, we stood chatting and 9:26 came and went and I mentioned to the gentleman that the train was due. Eventually he noticed it arriving in the distance around the bend sometime around 09:29 or so and I have to admit, we were quite relieved and happy that the train was running. We had no reason to believe that it wouldn't of course, but with only one service a week, there's a sense of dramatic tension until the train actually makes an appearance.

The train was formed of 142022 at the front, with 142014 at the rear. I think, going by where the train stopped and by where the guard was standing that only 142022 was open to passengers, with 142014 closed off, but I might be mistaken.
Imagine our further surprise when a group of three people alighted at Reddish South - or so we thought. In fact they were just getting off to photo the train at the station, and then getting back on again. They did the same again at Denton. They seemed to be enjoying the journey as much as I was!
Interior shot - taken during my five-minute journey.

Five minutes later, I alighted at Denton, and other passengers boarded there as I got off, one of whom greeted me. There seems to be a bit of camaraderie amongst users of this line! I was the only passenger to leave the train altogether at Denton. Fortunately, I managed to get some better shots of the train here:-
Finally, grabbed a few shots of Denton station itself. Good to see they have benches and planters. A good effort has really been made here:-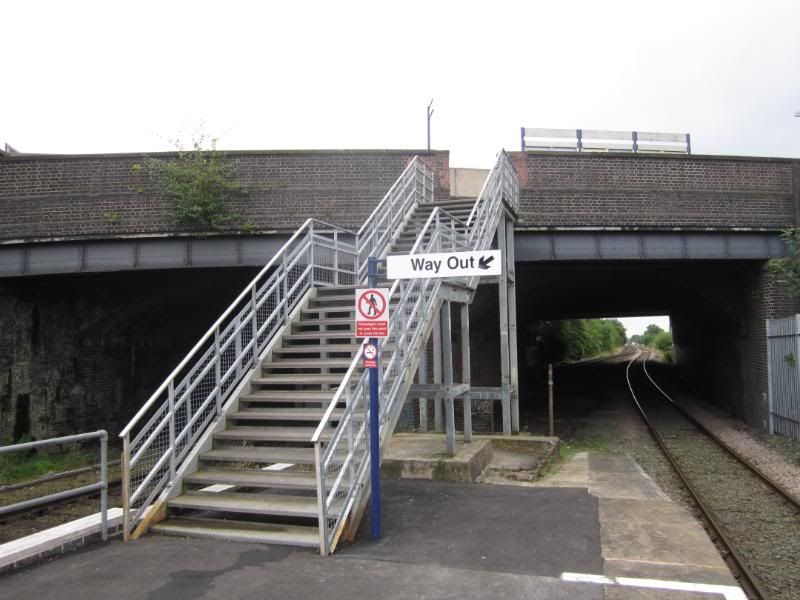 I've got loads more photos of the two stations of interest that I visited today, far too many to insert in this single post. I may post some more in the thread again at a later time.
Finally, I walked into Denton itself, for further photos including Denton Town Hall and Victoria Park. Although one small part of my mission failed. Whilst there, I attempted to locate the offices of "Tameside Insulation" (Just out of curiosity really) as they have been cold-calling us at home loads recently. They are meant to be based at Crossgate House, 53b Manchester Road, Denton, but I could only find a Co-op funeralcare centre at 53 Manchester Road, and no Crossgate House or 53b in sight!
But I digress, finally I walked the 5 miles or so back to Stockport via a place called "Dane Bank" which I'd never heard of before, and then back through Reddish proper this time. In the vicinity of Dane Bank, I crossed over another railway line on which a train to Sheffield was running. The driver had to sound the horn as there were a group of foxes on the track. I also have photos of this, but haven't uploaded them yet.
Finally arrived back at Stockport station around 12:08, which was quite handy as I boarded the 12:26 direct service back to LIV.
Eventually getting back home for around 2pm and eager to check out my photos!
I will certainly do the line again, but next time I'm going to travel the whole length by rail, as I'm currently in need of doing the bits at each end. That'll mean I can get up an hour later too! (since I won't be walking to an intermediate station). But I do like to actually visit the stations too on foot, to get a true feel of them and the areas that they serve. In that respect, I can now tick off Reddish South and Denton as done.
If any of you have read any of my previous trip reports, you might have seen the "A4 frame of obscure stations". Well, it now looks like this:-
It now contains tickets for, Ince & Elton, Hawarden Bridge, Stanlow & Thornton, and Finally Reddish South + Denton on the same ticket.
So four tickets down and five still to go to fill this frame up.
Have to admit with hindsight, Reddish South makes Ince & Elton seem like a commuter hub.

Still have to do Chester to Runcorn as I've not even done the Halton Curve yet. Can't do it tomorrow, but hopefully I can get it done sometime this summer.
Anyway, I hope you enjoyed reading.

Last edited: