Joined

19 Mar 2007
Messages

577
Location
Hi,
To the previous part of the series:
Magyar East '03-'16 - 7: Through the Puszta to Chop (50 p.)
http://www.railroadforums.com/forum...ast-03-16-7-Through-the-Puszta-to-Chop-(50-p-
)
The video for this part (please set to 1080p quality / full-screen mode):
https://youtu.be/WmYCDzD87uc
April 12 2003
13 years ago we arrived by express "Dukla" at Chop, the two through-coaches to Kiev from Vienna and Bratislava were immediately shunted to the regauging facility by a class ChME3. Bogies were hauled under the lifted coaches by cable operation.
The hatch to the pivot of the bogie was located beneath the carpet of my compartment.
VL10-1490 approached the station pulling an express from Lviv - a compact camera panorama.
No fear, the smoke was not emitted by this class VL11 but behind it.

A crane delivered the automatic couplers.
Base of the crane.
The couplers had been attached.
Now the Ukrainian express conveying our sleepers was shunted to the platform.
Then as now (see previous report) ChME3-4177 was on shunting duty.
Construction vehicles.
After regauging, ChME3-4177 took us back to the station. The four-rail dual-gauge track of the mainline enabled a standard gauge connection from Slovakia and Hungary through Ukraine along the Hungarian border via Batiovo, Berehove, Vynohradiv and Korolevo to Halmeu in Romania. After the collapse of the Eastern bloc and enlargement of the European Union of course traffic nowadays takes different routes.
Plenty class VL10 and 2M62 double locos stabled at Chop shed.
This image gives a good overview of tracks at the station: To the right you can see standard gauge goods cars, tracks 4 and 5 right are broad gauge, track 3 standard gauge with connection for loco reversals, track 2 broad gauge and track 1 four-rail dual-gauge.
The clearance gauge difference between inland broad gauge coaches and our regaugeable sleepers for international travels is clearly visible.
Our Chop shunter, still wearing covers against winter frost at Easter.
I will include the further trip over the electric mainline across the Carpathians to Lviv with another series of travelogues, as I did not go that way on the current journey.
July 29 2016
This summer 478.032 had hauled us from Záhony to Chop, immediately after arrival we were herded through border controls. Afterwards you step into this fantastic hall of the international terminal, adorned with Soviet-era monumental paintings.
Above the ticket counters the German imperial eagle was slayed, followed by WWII victory, rebuilding, space race and ultimately, world peace. A class ChME3 rolled by from time to time.
I went on some errands, first changing hryvnia currency at "Privatbank" where I had to wait for 20 minutes due to a computer system error - at least the bank even offered a customer toilet. I returned to my travelling companion, who in the meantime had witnessed dramatic scenes around a - luckily - failed attempted child abduction.
To buy local train tickets I was referred to the other station - in Ukraine ticket counters of express and local traffic are often located in completely separate halls. Cross-border train 32517 to Záhony was just being dispatched by the border police, so I walked around the platform. The following Sunday a MÁV class M62 hauled this train, as I was told later.
Chop local traffic station is a finely kept gem. I purchased tickets to Berehove for very "expensive" 10 hryvnias per person (30 pence). I received something resembling a till receipt. It would take some time until I cracked the 1-pound-barrier of rail travel expense on this trip.
Around 11 a.m. we walked out on the platform to capture express 81 "Desna" Kiev - Uzhhorod sadly not ideally, as it arrived a few minutes early.
Behind VL10-1483 two through-coaches to Budapest were conveyed continuing their journey at 2:20 p.m. by IC 33.
We were especially fascinated by these hand-painted danger signs - none completely resembled another.
Afterwards we had enough of the heat and heavy luggage and sat down at the terrace of a bar across the station square. The daughter of the owners was delighted to be able to talk some English to us.
After 1 p.m. we returned to the local traffic section of platform 1. ER2-510 reversed as 6545/6 Volosianka - Uzhhorod - Chop - Mukacheve. Trains to/from Uzhhorod sometimes don't even serve Chop passenger station out of this reason, but use the direct loop only passing the goods yard.
The EMU stopped just with the front in the sun.
I adore the design of class ER2, almost like a classic Soviet plane cockpit, especially the side trap windows. We helped a lady boarding the unit, after the bags followed the obligatory bike.
Inside the rustic and dirty passenger compartment we took our seats next to the joking and chatting railroaders. Other coaches of the same train offered modernized seats.
April 12 2003
As you could only tilt the windows of the EMU, here are some historic images of the ride past Chop sorting yard: ChME3-3192.
And 2M62-1211, afterwards we passed a hump.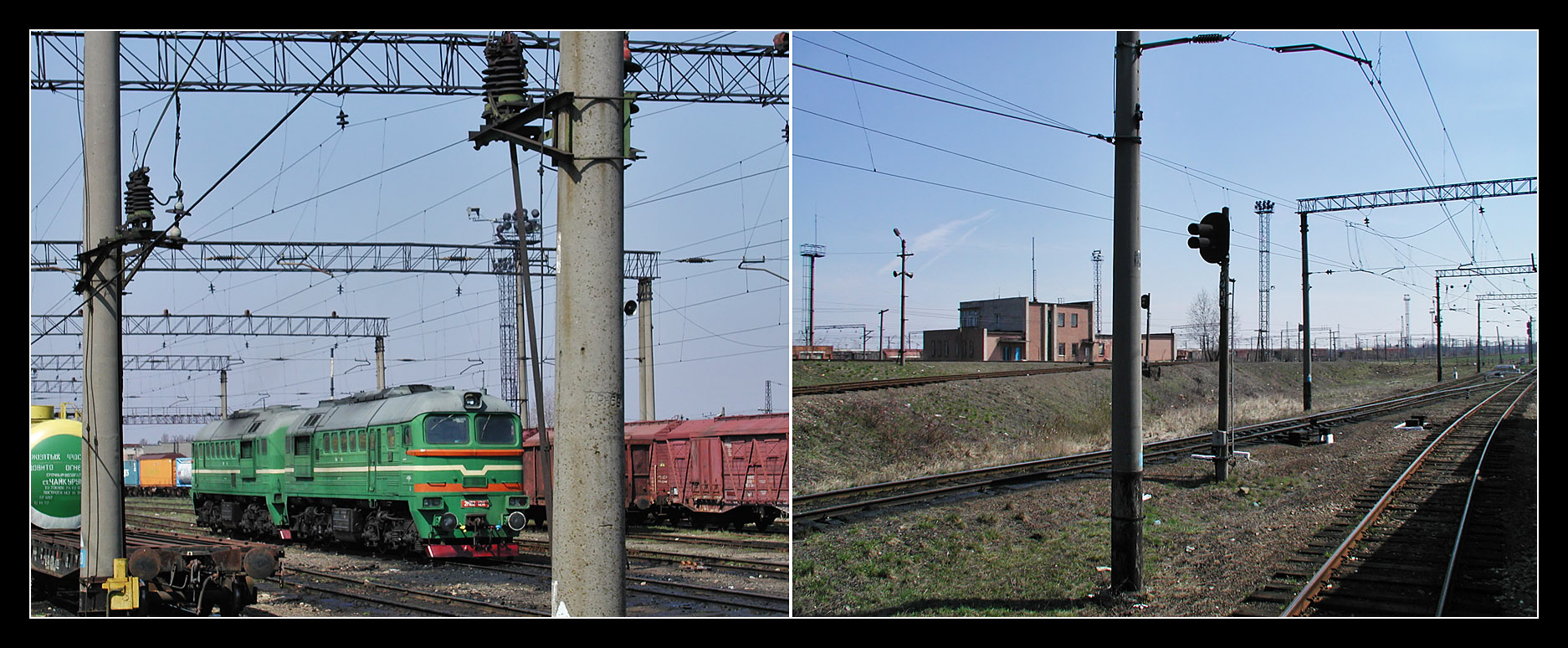 July 29 2016
Crawling, but punctual, we reached Batiovo junction at 1:45 p.m.
D1-563 offered a connection as local 6580 on the diesel line to Solotvyno, scheduled departure 1:51 p.m.
However, it got slightly delayed, that's why we made it up the pedestrian bridge. To the bottom right you can spot the young female station master.
The reason for the delay: ChME3-1917 first had to arrive with a local freight from the branch line.
Until the class D1 DMU finally managed to depart, a class V11 approached from Chop completing a model-railway-like scenery (see video from minute 2:50).
The 3 kV DC-loco stopped shortly, then continued light engine to Mukacheve.
However, there always was some action. The station master put on a way too large one-size-fits-all high visibility vest and walked across the rails in high heels to perform usual railway worker tasks.
D1-769 operated the 6596 Khust - Uzhhorod service.
ChME3-2173 obviously doubled as a taxi, as the wife of one of the engineers also emerged from its cab.
Meanwhile ChME3-3072 shunted some cars from the separate yard of the station. This was to be our last photo from here, as a guy with a holstered gun approached us. At first he demanded we should delete all pictures, after some time we convinced him that we would just take our seats in the pub next door and drink beers until our train was about to depart - in two hours. Later we saw him checking two covered goods cars carrying mysterious red labels more than carefully. So, we suspected he had his reasons to be this alert, probably war material was transported here.
At 5:07 we were finally relieved and boarded train 6596 towards Tiachiv. The class D1 wobbled extremely slowly through the landscape, at times you thought something was wrong with the DMU - but no, it just took minutes to accelerate from snail-like crawl to a bit faster crawl. Because of that I managed to capture only a distant photo of this crossing train, as the doors closed and we went ahead to negotiate the switch of the loop as early as possible.
We arrived at Berehove 10 minutes after the scheduled time of 5:53 p.m. Our D1-769 chugged away on the four-rail dual gauge track.
We had overtaken ChME3-1917 which departed right afterwards hauling its auxiliary train. A sign on the station building shows the town's Hungarian name, Beregszász (German: Bergsaß or Lampertshaus). About half of its inhabitants call themselves Hungarians, in a 2010 referendum it was voted to officially return to the Hungarian name.
A taxi took us to our accommodation in the centre for 30 hryvnias. After checking in, we explored the town. Of several monuments in the central park the one for the victims of Chernobyl has been maintained well, while a central Soviet piece was just being replaced by a current Ukrainian one.
A few nice townhouses.
The war memorial for the current conflict, 1000 kilometres away (by comparison: it's only 500 kilometres to Vienna from there). Still, too many people have fallen even from this small place in the west, which all the posters are a testament for.
We met Thomas, the organizer of our narrow gauge photo charter the next day, and his wife for a grilled dinner at our Lambert Guest House.
Next time we will continue on narrow gauge! :0)