Joined

4 Jan 2017
Messages

1,899
Location
I am a bit concerned over a story that I read about the publication of the next rail review being held up by disputes between the DfT and the treasury, the latter apparently concerned over 'cost'. Is anybody able to advise what the situation is with this?
According to the article in Wednesday's Daily Telegraph, the prime minister is in 'crunch talks' with the chancellor on this issue:
Plans to publish a rail blueprint before May's local elections have been shelved with the Treasury at loggerheads with the Department of Transport over how to fund reforms.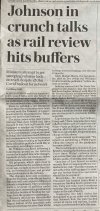 Also I harbour other concerns that the treasury is pushing ahead with other initiatives to encourage people to consider alternative forms of transport. In particular:
Subsidies offered to motoring by continued freeze of fuel duty, effectively representing a real terms cut relative to inflation.
Consideration is now being given to a reduction of air passenger duty for internal flights. This is rather a blow for the open access operator serving London - Edinburgh which has already invested in new trains, presumably on the back of a business plan that assumed the same if not more air passenger duty going forward. The air passenger duty to be given away could even have been earmarked to improve Cross Country.
The usual annual increase in rail fares. This was a little delayed this year but went on anyway. Compare and contrast with fiscal policy on motoring and air.
More broadly, the actions of the treasury seem contrary to the Conservative Party's improbably enlightened anti-car agenda. Is this not the same party that is finally putting people first in low traffic architecture, promised us a revolution in bus travel, a reform of the rail industry undermined by commitment to HS2, and is led by a bicycle enthusiast?
Leaving aside the disastrous decisions made by the chancellor throughout the pandemic (eat out to help out - help spread virus that is), is this not the worst chancellor for rail we have had for a generation? I don't count the emergency measures made by the government to keep the trains running as his initiative to applaud, any government would have had to keep the country moving and made sure the services did not just stop, whatever political stripe.
Last edited: