Joined

12 Jun 2013
Messages

3,122
Location
To compliment the
Class 28 Metro-Vick (Loaf) thread
, this thread is dedicated to perhaps the most maligned of the 1955 Pilot Scheme diesels: the North British (NBL) Type 2 trio, consisting of the Class 21 diesel-electrics, the Class 22 diesel-hydraulics (aka
Baby Warships
) & the Class 29s (rebuilt/re-engineered 21s).
Much has been said and written about these machines (in print and online), and I thought it was high-time this forum had such a place for them. Between the issues that plauged them (the 21s in particular), their less than 15 years in service and the demise of their manufacturer, this should make for a fascinating thread (attached images copyright of Michael Mensing, Peter Lovell, Rail Photoprints & Bill Jamieson respectively).
Over to the rest of you.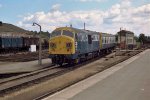 Last edited: