Hi,
Hope this is the right place to put this post. Basically I was looking on the net at the history of Marylebone and the GCR lines, and came across this map of the station as was with the large goods yard (since turned into an estate).
What caught my eye however, was the white/black line (I think that denotes underground on this map judging by the GCR and Met lines), that emanates as a branch from the Bakerloo line somewhere to the bottom right of the map (i.e. between Marylebone and Baker St) and after passing under Marylebone station, turns north once east of Marylebone, crossing back west under the approach lines to the station, and running into St Johns Wood station (opened 1939 according to Wikipedia) on the former Met Stanmore branch that became a Bakerlook branch and later the Jubilee line.
My question is, does this "under Marylebone" tunnel actually exist ?
Is it the Bakerloo Branch / Jubilee line ?, I thought that ran linearly from Baker St ??
I also came across this map, which looks very similar but doesn't have that.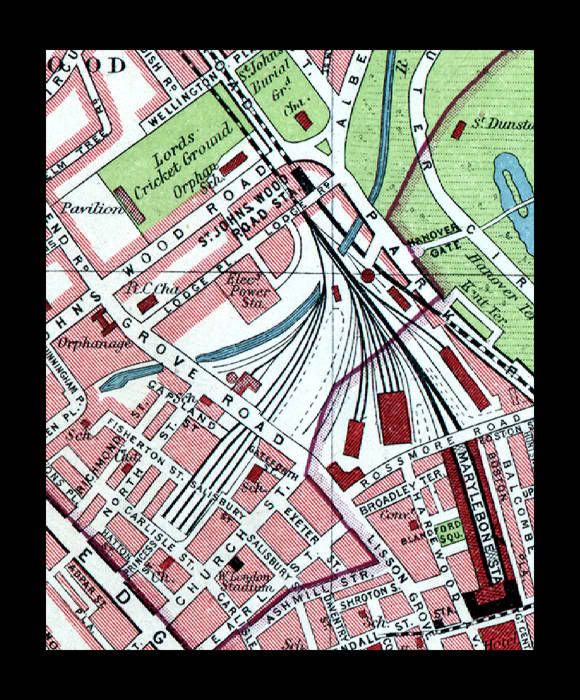 It might be possible to date them given an orphanage on the SE corner of Lord's appears to have vanished in one (and today, appears to be a fitness centre).
ps. unfortunately, the map extracts were from sites that didn't have the next panel !
--- old post above --- --- new post below ---
Came across this map, an aerial of London with the tube lines superimposed. Little hard to see, but shows the Jubilee line actually running East of the Met from Baker St, and nothing in the area of Marylebone other than pure Bakerloo.
anyway, it's always interesting looking at old maps !