Forum Staff
Staff Member
Global Moderator
Joined

16 Nov 2009
Messages

23,746
Location
So as I'm sure most of us are aware there are still sleeper services in the UK. Three trains serving six destinations (the Night Riviera linking London and Penzance, the Lowland linking London to Edinburgh and Glasgow, and the Highland linking London to Fort William, Inverness and Aberdeen) are the remains of what was once a very extensive network of sleeper services crisscrossing the country. Now I had had in my head that by the end of the 80s and into the early 90s the pattern that we now have had basically been established and the only remaining significant service outside of that pattern was a Edinburgh to Plymouth cross-country sleeper which eventually got killed off at privatisation. However studying my May to October 1989 GB Timetable reveals that that image in my head was extremely inaccurate.
Take for instance departures from Euston (no Kings Cross sleepers by now, indeed there's a lovely note advising that there is now the "added convenience of leaving from just one station: Euston") on Sunday to Friday nights:

(Image shows nine departures from Euston between 2100 and 2359 serving range of destinations including three trains to Glasgow, two to Inverness, Aberdeen, Edinburgh and one each to Stranraer, Fort William, Carlisle, Manchester and Liverpool)
Needless to say the very early arrivals at somewhere like Carlisle or Liverpool have an accompanying note to indicate you can remain in berths until a slightly more civilised hour! In the reverse direction there are even two further services to Euston one from Holyhead (and independent train) and Barrow (which joins at Stafford with sleeper cars from Liverpool and seats from Manchester) that don't have sleepers to them from Euston meaning even more sleeper services located around Euston.
Then there's all the Saturday night sleepers to/from Euston to boot which is something that's long gone now with sleepers very much being a Sunday to Friday night operation these days:

(Image shows eight departures between 2000 and 2359 serving a range of destinations including two trains to Glasgow, Edinburgh, Inverness, Aberdeen and one train to Carlisle, Liverpool and Manchester)
As previous very early arrivals include provision to remain in berths until a more reasonable hour and in the reverse direction there are a similar number of services to Euston (including Holyhead but not Barrow). The 2205 from Euston taking over twelve hours to get Aberdeen/Inverness caused me to pause for a moment and looking at it's schedule it's allowed three hours and forty minutes between Preston and Carstairs compared to two and a half hours of it's weekday equivalent. Perhaps they're going via the Cumbrian Coast during this timetable? In any event Euston must have been a hive of activity for sleeper services seven days a week from around 2000 until close to midnight at this period!
I have to say that I found it remarkable that as late as 1989 there were still dedicated sleeper only train to Inverness, Aberdeen and Edinburgh with no portion working at all and indeed all of them saw more than one sleeper service per night (though the extra usually conveyed portions of one description or another). Stranraer still being a survivor was also quite eye opening!
Turning to our other remaining London terminus that saw sleepers then and continues to see them now (Paddington) the Night Riviera is there and happily running seven nights a week compared to the usual six nights that it does now. It also still drops off a portion in Plymouth meaning that passengers in 1989 get to remain with their berths until 0800 (rather than getting kicked out 0510ish) or can join their berths at 2200 (rather than having to loiter around until the train leaves Plymouth shortly before midnight)!
But of far more interest, at least to my sleeper starved eyes, are the other services which still exist as late as 1989 which do not serve London at all. The previously mentioned South West to Scotland sleeper remains a seven day a week operation at this time:
(Image shows Plymouth to Glasgow/Edinburgh sleeper service including Saturday night only extension for service to start back from Penzance)
One of those services firmly in the "wouldn't it be nice if" category today! The Saturday night extension back from Penzance was interesting as I don't think I'd ever realised it had extended beyond Plymouth. The reverse direction is similar of course but the extension to Penzance is on the Friday night departures from Scotland so arriving on Saturday morning (which of course neatly puts the stock in the right place to go north again that evening!).
The eye may be drawn to the long wait at Birmingham New Street on every day except Saturday where it goes straight through with just a five minute station call. Well, that's to allow the for a portion to be joined from Poole: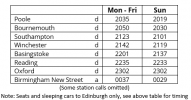 (Image shows Poole to Birmingham New Street section of service)
Quite a remarkable service to think about and surely this portion must have died off before very much longer and indeed before the rest of the service was binned in the mid-90s as surely it was only carrying fresh air most days?
The final surprise is that as late as 1989 there were still internal Scottish sleepers! Something which I was certain had surely been consigned to the rubbish skip of history by 1989 but here we are, seven days per week: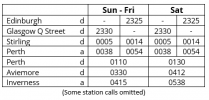 (Image shows sleepers from Edinburgh/Glasgow Q Street to Perth where they combine and run onto Inverness)
It's also worth knowing that northbound only on Sunday to Thursday nights there were also sleeping cars conveyed on the Glasgow Queen Street portion through to Aberdeen. I'm struggling to work out what that was all about unless it was someway of trying shuffle stock around but otherwise seems an even more bizarre exercise than the fact that there were any internal sleepers still in Scotland as late as 1989! If you'd ask me before this I'd have thought they'd all gone extinct by the early 80s!!
Anyway, hopefully the above will at least be of interest (please do let me know if so, I've sunk more time than I really should into this post

) but to come back to my opening question, considering that as late as 1989 there was a very extensive network of sleeper services (though admittedly smaller than it had been historically) when was the purge? When did the change happen to remove sleepers to places like Manchester, Liverpool and Stranraer? When did we go from two or three services per night to/from the major Scottish cities (including some sleeping car only direct services) down to the current two trains conveying portions only? If it really did happen between 1989 and the mid-90s it must have been one heck of a cull in a very short space of time! Did it get remarked on at all at the time? Or was this lost to either the white heat of privatisation gripping the industry and press or was it lost to the reality, I'd guess, that most of them were very quiet most of the time?