Joined

9 Jul 2009
Messages

2,671
I thought I would start a new thread for this as it covers across a broad base of some existing threads.
There has been much discussion across various threads on the effectiveness of various restrictions and measures in place, and also the desirability of those restrictions.
It is obviously going to be very difficult for official statistics to pick up exactly where the virus is being transmitted the most.
Some people suggest care homes, hospitals, workplaces or schools are big areas of transmission. The Government and SAGE always say the most transmission takes place in the home - but the virus has to get in to the home in the first place, by someone picking it up and bringing it in to the home from somewhere else. Recently the focus has been on supermarkets. For many months Hospitality has been blamed for being a super spreader, but what if any evidence suggests this?
Irrespective of anything else case numbers are dropping now, and have done so in the past, but what is causing the drop in case numbers we are experiencing now and have done in the past?
If we look at England as a whole we can see that there has been a drop since the start of this year. There was also a drop in November, but for England as a whole this wasn't as pronounced as in some regions.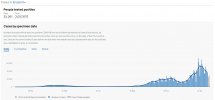 If we look at some regions we can see marked differences: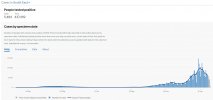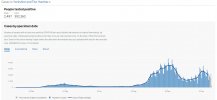 Pictures show images of case numbers by specimen date rising and falling in England (first two images), The South East (third and forth images) and Yorkshire and The Humber (final two images)
Now, in the grand scheme of things, there wasn't much difference between the tiers that were in place later in the year.
I know there may be very little real evidence, but my questions are:
What restrictions and measures have been effective and have caused the fall in case rates nationally and regionally last year and that we are experiencing at the moment?
What is causing the regional differences in rise and fall? Are the regional variations due to the tier systems in place later in the year or other demographic reasons? If it is due to tiers, which measures in the relevant tiers are have caused the variations, as there wasn't a huge difference between them and every single industry (hospitality, hairdressers etc) or area (education) all say there is no evidence they are an area of transmission. But something was causing transmission and something has changed to cuase transmission to fall.
Obviously if there is any evidence showing which measures are effective or not then it aids in deciding which measures can be released first.
As a starter for 10 I would suggest that seeing as a considerable chunk of the country was in Tier 4 before we entered lockdown, and schools closed at least 2 weeks before the current lockdown, then it may be the case that closing schools (however undesirable that is) may be a significant factor in reducing spread. Is it a valid argument that it can't be blamed on hospitality as in some places, such as most of Yorkshire and The Humber it was closed or severely restricted anyway?