Joined

27 Feb 2015
Messages

106
Location
New book– 'Rot At The Core.'
By Graham Satchwell & Winston Trew.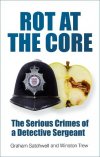 Reveals the extraordinary criminality within the BTP of the 1970's and beyond - organised crime, large scale thefts, threats and intimidation, 'fit ups,' perjury and the culture that allowed it to thrive.
Written by former Detective Superintendent Satchwell & Winston Trew, one of the many BTP miscarriage of justice victims.
What they are saying:
'A compulsive read; uncomfortable and jaw dropping
.' Jackie Malton. Former Met Flying squad DCI, writer and broadcaster.
'A remarkable book'…'fascinating
.' Duncan Campbell, author and multi award-winning journalist.
'Enthralling.
' Lord Mackenzie of Framwellgate.
'
Fascinating.'
Stewart Tendler, former Chief Crime Correspondent – The Times.
Even before launch, two very well-known film companies have enquired about the dramatic rights
If any of my Forum friends would like a signed copy, please
let me know soon.
I will be pleased to send you a signed copy with a dedication of your choice. Just email me at
[email protected]
Cost £18.80 (£15.99 rrp + p & p.)
Hardback.
Otherwise available now for pre-order in all good bookshops and online. Publication date- 3rd May 2021. The History Press Ltd. ISBN: 9780750996181
PLEASE NOTE> PERMISSION WAS SOUGHT AND OBTAINED FROM THE FORUM MODERATOR FOR THIS ITEM TO APPEAR.
Last edited: