Joined

10 Dec 2019
Messages

304
Location
I've been trying to book a return trip from Nottingham to Ely on 16 July. EMR have cancelled a number of trains on this route, including the 09:40h from Nottingham, yet they still appear in the National Rail journey planner. The triangular "Status" notification for that train expands to "This EMR train will not run. This is due to a reduced timetable".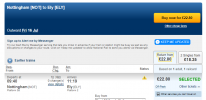 Even EMR's booking engine shows these trains, and the notification of cancellation ("This EMR train will not run") is even less helpful as the notices don't say which train each notice applies to: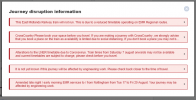 Usually if there's engineering work, trains are retimed in the national timetable so that passengers are not misled. So why are these trains still in the national timetable?
Is it so that Abellio can pretend that it is still meeting its franchise commitments, by classifying these non-running trains as service disruption?
Last edited: