Joined

14 Jul 2011
Messages

16,082
Crayonistas of the world unite!
Well we've had a lot of recent discussion about reopenings vs new lines, so I thought I'd do a thread on something I've been toying with for a while, mainly for my supervisor in relation to transport decarbonisation.
I know I am considered to be a bit of a techno-utopian by the denizens of the forum, but I'm of the opinion that testing the limits of technology tells us interesting things.
Anyway, my own view is that most of the succesful innovations in recent years have been towards a turn-up-and-go or metroised railway, with high intensity services.
High intensity services also make changing easy, so reduce the problems caused by an inability to run trains from everywhere to everywhere.
So what if we take this to its ultimate limit?
Let's say we built a 505km/h Chūō Shinkansen-style maglev line from one end of the country to the other and ran it as a metro? If we ditch the Japanese mixed stopping pattern and run it as a metro, it appears that 10tph would be achievable at the least.
So we end up with something like the journey time chart in the image (in minutes):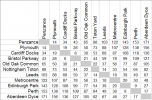 Now let's say that with our average wait time of 3 minutes, and an optimistic interchange time to/from other public transport of five minutes, and assuming HS2/NPR are built - what impact does this have?
(For the sake of argument assume pricing is comparable or lower to equivalent conventional rail journeys, and I've constrained accelerations to be comparable to the tube so standing passengers are allowed)
If anyone wants to discuss the technical realities of this, I can make another thread, but right now I'm more interested in the wider "network effects", how do service patterns etc change. So just assume what I'm proposing is buildable.
Also obviously station locations are illustrative, more than anything