Hello

Some people reading this may be aware that I have previously shared my attempts of making a version of the Cotswold Line in Train Sim. These attempts were, having looked back on them, really quite poor as I lacked the knowledge and tools to be able to properly make a realistic route for TS. So, in September last year, I started to make a new version of the Cotswold Line, with the correct gradients, correct landscape data, and the correct trackwork. Despite having worked on it for around four months, I've not got much beyond laying the track and platforms, so you may want to lower your expectations!
I started this project because the Cotswold Line is my local line and I've wanted to be able to drive on it in Train Sim for a long time. Bossman Games, creators of the Welsh Marches route and many other products besides, announced they'd be making the Cotswold Line for Train Sim in December 2019 - as far as I'm aware, they've laid the track but I've not heard much about it apart from that. With the current situation, I understand getting out and about to get photos and other source material for routes is difficult, so I totally get why progress on their route may have slowed. Because BMG's route didn't seem to be available for release at any point in the near future, I thought I might as well have had a crack at building it for myself; just to test my route-building skills if nothing else (or particularly if they release their route before I finish mine).
Anyway - here are some screenshots of the route from today (5.2.2021), showing where I've got up to with each station. I would really appreciate any kind of feedback (as long as it's constructive!) - I understand some people on here are much more skilled at route building than I am so I would be very happy to hear how I can improve the route.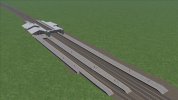 Above: Oxford, looking towards Didcot. This version of Oxford will include the two Chiltern Railways platforms for services to Bicester and London, unlike the version of Oxford found in JustTrains' Western Mainlines route. I think I've used the JT Oxford model for the station building, but I may have used the old Kuju one. Anyway - up close, it's not too bad. I plan to extend the route down to Didcot to allow for Didcot-Moreton scenarios to be made.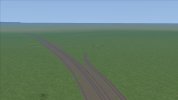 Above: The line coming out of Oxford, heading towards the Cotswold Line. The tracks diverging to the right are the tracks used by Chiltern Railways services to Bicester and London; I'll also be including the line to Bicester from Oxford in this route, just as something extra.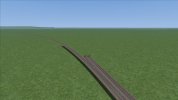 Above: Wolvercote Junction, looking towards Banbury. The Cotswold Line diverges to the left here. The two other tracks are the ones which will go up to Banbury, which I will also be adding, as well as the lines from Banbury back down into Bicester, just to complete the small network in the Oxford area.
Above: Finstock station. Left is to Charlbury, right is to Oxford. I need to fix the platform height here and change the path down to the platform as it's currently a car-spawning road.
Above: Charlbury, looking towards Kingham. This view shows the bridge and the platform with the differently-sized sections. The main issues here will be the station building and footbridge, both of which are bespoke to Charlbury and are main points of the station (for me at least).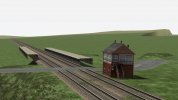 Above: Ascott-under-Wychwood station. I can't remember which way this is looking, but I think it's towards Kingham. The signalbox is deliberately set at an angle, just as the real thing leans away from the line.
Above: Kingham station, looking towards Moreton-in-Marsh. This station is the one I've been to the most, and so I thought it would be best to start the scenery here and then work down to Oxford. It's not finished, as you can see, but it gives you an idea of what I'm going for.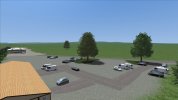 Above: The industrial area beside the track at Kingham, with the line heading towards Oxford on the left of the frame. This is missing a few buildings and little details.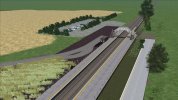 Above: Kingham again, but a better shot of the station. The grass in the bottom-left corner needs sorting, as does the carpark, and the footbridge. I've had several issues with the car park as due to the fact that the ground slopes down into the platform so as to not cover the track, any decals won't lie flat.
Above: Moreton-in-Marsh, looking towards Worcester. This is as far as I've got with the track, but I plan to do the track all the way to Worcester at least. The Down Refuge Siding is included, although not visible in this shot. This area needs a lot of work as I've only done the platforms and signal box as a sort of marker for where the other things need to go.
So as you probably gathered from those screenshots and their captions, I've got a lot of work still to do! This route is also going to be more "Cotswold/Cherwell Valley Lines" than just Cotswold Line as the Cherwell Valley Line (Banbury - Didcot) will also be included. I must stress that at the moment, this is a route which I'm working on for my own use, and so I'm not setting any kind of deadlines or hardcore standards for me to follow. If I like the look of it when I'm finished, I'll probably release it, but not before then. This route serves what I'd want from a TS route of the area.
I hope you made it through this incredibly long post - apologies for it being so long!
-Peter