Joined

2 Jul 2020
Messages

15
Location
Can't comment on pipelines but they have a lot of lorry tanker work.

Another branch runs off the dock branch right behind my house, track was lifted some years ago now. Used to branch off the dock line between the mainline and the M53 bridge, then heads off to what is now Ellesmere Port Scania. I live in a new build house (Ellesmere Park Persimmon), the wasteland behind (now building industrial units) I believe used to be a gas works. Assume this branch went there? The line up to Vauxhalls/Eastham runs parallel to it on the opposite side of the M53. I can see the railway bridge this branch passed under on Rossmoor Rd East from my window.
Ah yes, there's a trackbed clearly visible on google maps curving off just before the branch passes under the M53. On one of the aerial pictures from 1981 (that LNW-GW Joint linked in post #18) this area near the motorway junction looks completely different and there are oil storage tanks there. Looking at the 1990 London Midland Quail map, this must have been the Gulf Oil terminal (possibly a gas works before that). This article mentions the terminal was dismantled in 2002 -
https://www.placenorthwest.co.uk/ne...ere-port-industrial-project-set-for-approval/
Gulf Oil (then owned by Chevron) wound up their UK operations in 1997, closing Waterston refinery and selling "three wholly owned fuels terminals, which are located at Cardiff, West Bromwich and Ellesmere Port" to Shell -
http://www.gasandoil.com/news/europe/568a8742e4e3f12d74f3a59d45082f1b
Given that Shell had the massive Stanlow refinery nearby, they must have decided that the Gulf Oil terminal at Ellesmere Port was surplus to requirements. On the "Some Wirral Industrials" RMWeb thread linked in post #25, there are Gulf Oil tanks pictured coming off the branch with the caption "This was taken from by Ellesmere Port No2 box and shows a train that has come from the Gulf refinery. the loco will shunt it into the sidings to the left (West End Yard) for later collection by BR." I think the Gulf terminal was a storage facility rather than a refinery, but this gives some idea of the traffic. An RMWeb thread on "Oil Terminals no more" mentions that "Albion initially took product from Ellesmere Port then Cardiff then the new refinery at Robeston."
Albion was the terminal near Sandwell & Dudley which is not far from West Bromwich. These locations match up to the list of terminals that were sold by Gulf - Cardiff, West Bromwich and Ellesmere Port (Robeston is probably being confused with next-door Waterston here). My guess is that the Gulf Oil rail traffic mainly consisted of deliveries to the Albion terminal. The photo of gulf tanks at Ellesmere Port was dated "late 70s" so perhaps the terminal saw little traffic once the source had switched to Cardiff and then Waterston.
Some info & photos on the Albion tanks when they were running from Waterston (the flickr link is to an interesting set labelled "On the Albion tanks.")
I seem to recall that the Eastham rail facility was used for chemical handling/storage rather than 'oil refining'. Target 56 from Warrington used to bring caustic soda tanks from Runcorn on an intermittent basis. There were exchanged with the MSC railway in Ellesmere Port West Yard.

There was also a small Gulf petroleum storage facility, nearer Ellesmere Port that also had an MSC rail link but this saw very little use.

An additional siding was put into another chemical facility near Eastham (called PanOcean or similar) but this also seemed to see little use.

There was regular coal traffic into the Bowaters paper mill, usually from Newstead in HBA wagons.

(These recollections from the late 1970s.)
Interesting. I guess the Bowaters traffic would have used Manisty Wharf?
I've just been down a google rabbit hole looking at Eastham Refinery and the Ellesmere Port facilities, trying to relate them to the sidings shown in the first edition (1990) of the London Midland Quail map.
This is roughly the layout of terminals shown on the quail map, very schematic and not to scale!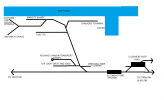 The Eastham Refinery appears to be alive and well, despite some conflicting info on wikipedia. It's owned by a Swedish company called Nynas and produces bitumen and some specialist products:
The Eastham refinery

Located on the River Mersey, the refinery was constructed on a greenfield site in 1966. It has been operating as a 50/50 joint venture (Nynas/Shell) since 1992.

The refinery was built as a dedicated bitumen refinery to meet the demand for bitumen at the time of the motorway expansion in the UK in the 1960's and 70'
The Eastham refinery has the combined capacity to produce almost 50% of the current UK demand for bitumen.
According to Paul Shannon's "Bulk Freight" book (in the "Rail Freight Since 1968" series) despatch of bitumen by rail from Ellesmere Port ceased in 1990 (with all other traffic from Stanlow ceasing in 1998). The reason given is that "Shell moved its bitumen production to another, non-rail-connected, site." On the "Some Wirral Industrials" RMWeb thread linked above, there is a photo of a Shell shunt loco within Stanlow refinery and the caption mentions that "The Shell locos were passed to run on BR lines as to get to the Bitumen plant they had to cross from the refinery site (on the up side) to the MSC lines (on the down side). This happened about once a month. It was done to swap the engines around." A photo of a bitumen train at Skipton on flickr -
https://www.flickr.com/photos/lickeybanker/24377609797/
mentions that "The tanks would have been delivered from Shell Stanlow Refinery via Ellesmere Port as a block train." From this it would appear that the bitumen dispatched from Ellesmere Port came from a Shell bitumen plant within Stanlow refinery on the north side of the line, east of Ellesmere Port yard. My old quail map shows a "Shell No.2 entrance" in this area. Presumably this bitumen plant within Stanlow closed and Shell then became involved with the Eastham refinery which wasn't set up to dispatch by rail.
The terminal at Eastham on the 1990 quail map is marked as "PanOcean Storage and Transport" with another terminal labelled "Unitank Storage" in the same area. For some context see
https://en.wikipedia.org/wiki/Eastham_Oil_Terminal
There are still tank farms near Eastham Refinery, which on google maps are marked as
Exolum Terminals.
On google maps the Eastham branch follows North Road before crossing it and reaching a disused terminal next to one of these tank farms. Judging from the old quail map this was the Unitank terminal. There is also possibly another bit of track visible among undergrowth running alongside Eastham Refinery and stopping just south of the other tank farm. This must have diverged close to the point where the track crosses North Road - the 2010 pictures of the branch (linked earlier) show a line diverging here. This must have been the actual Eastham terminal (marked as Panocean on my quail) but developments around "Hooton Bio Power" make it difficult to follow the old trackbed. Not sure what the traffic was here, but it does look like it was to storage sites / tank farms rather than for transporting bitumen from the refinery at Eastham.
Apparently there was also a separate Burmah refinery at Stanlow which closed in 1981 (the "Some Wirral Industrials" thread shows a Sentinel loco bringing tanks from it). I'm not sure where exactly this was, possibly on the north side of the line. A Castrol lubricants plant (Burmah-Castrol then BP-Castrol) next door survived until 2008. Can't find any info on rail movements (there are some old photos of "Lobitos" tanks, previous owner of the refinery, on the HMRS website, but no other info). A couple of posts on "Urban Exploration" websites with interesting (non-rail) photos are the main search results for "burmah refinery ellesmere port" - see
https://www.abandonedyorkshire.com/home/2020/3/12/burmah-oil
One of my google searches gave a google books result for "Stolen Heritage: The Strange Death of Industrial England" -
https://www.amazon.co.uk/Stolen-Heritage-Strange-Industrial-England/dp/1838593985
Published in 2020, it has chapters on the history and decline of different UK industries (such as oil refining or paper production) and looks very interesting. It's not a railway book but the decline of these industries is so tied up with railfreight that I think it would appeal to anyone reading this type of thread - I think I'll buy a copy anyway!
Based on the info from various places so far (not necessarily 100% accurate), these are some relevant dates for industry in the area:
1924 - Stanlow Shell refinery opens, initially with a small bitumen plant
1932 - Bowaters Paper Mill opens
1934 - Lobitos (later Burmah) refinery opens at Stanlow
1962 - Vauxhall Car Plant Opens
1966 - Eastham Refinery opens
1967 - Line to Eastham laid at Ellesmere Port
1981 - Burmah refinery closes (Castrol lubricants production continues)
1990 - Bitumen rail traffic from Ellesmere Port ceases
1992 - Eastham Refinery (owned by Briggs Oil) sold to Swedish firm Nynas. Operated in a joint venture with Shell
1996 - Ellesmere Port MSC operations cease
1997 - Gulf Oil (owned by Chevron) sold to Shell.
1998 - Petroleum traffic from Stanlow ceases
2002 - Gulf Oil terminal dismantled
2008 - BP Castrol (formerly Burmah-Castrol) lubricants plant closure announced
2010 - Bowaters plant closure
Some links to general info on UK oil facilities that I found interesting: