Joined

21 May 2011
Messages

1,645
Wasn't sure where to post this.
Over Christmas, a 'Covid Bus' appeared in the London Borough of Redbridge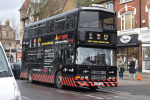 This travelled around the Borough during December, January and February warning people to stay at home,
A
FOI request
has reviled that this exercise cost over £18k - £6k for the wrapper and £12k for staffing and fuel.
I think this was a complete waste of money, and there must be far better things that £18k could have been spent on in Redbridge.
Any Redbridge residents on the forum? Are you happy about your council spending money on this?